Columbus Coffee Rewards
A loyalty app that allows Columbus Coffee customers to earn points and find nearby locations
The backstory of Columbus Coffee

Let's start with a few facts about our client so you better understand the idea for the app and who's behind it. 

The story of Columbus Coffee began in 1994 when four coffee aficionados including David Burton got an idea for a cafe that would share the best coffee traditions from around the world. After much planning, they opened their first coffee spot in Auckland CBD. Today, Columbus Coffee is a premium fast-casual franchise that has over 60 cafes across the North and South Islands of New Zealand. 

In 2015, they went mobile to strengthen customer loyalty, and in 2020, they came to us for app improvements.

Project tasks

Columbus Coffee already had a loyalty app when they came to Steelkiwi. Initially, they tasked us with redesigning the UX and optimizing performance. However, we decided it would be better to create a brand-new loyalty app featuring improved usability, higher performance, easier navigation, and a branded UI.

Our team, together with our client's backend developers, created native apps for iOS and Android using modern development tools and practices.

Restaurant and cafe loyalty apps aren't just a trend

Did you know that nearly 80% of people used a restaurant app in 2020? And that one of the three most desired app features is personalized offers and promotions? Another interesting fact is that 70% of consumers opt for online ordering when dining off-premises, while 58% order online even when eating on-premises at a restaurant.

These statistics by Deloitte prove that modern customers demand digital-first service. A mobile loyalty program is one of the basic building blocks of a successful digital customer experience. We'd say it's more of a necessity than a luxury in today's world. 

According to Bingage, 83% of consumers are more likely to buy from you again if you offer a loyalty program, while 65% of business owners say a loyalty program is the best way to connect with customers. 
Results
Duration:
October 2020 – December 2020
Team:
PM - 1
iOS - 1
Android - 1
QA - 1
Simple yet effective restaurant loyalty apps for iOS and Android
Together with the Columbus Coffee backend team, we developed a native app for Android using Kotlin/Koin and a native app for iOS using Swift. (Jump to the Technologies section below to learn what libraries and tools we used.) 

Having both Android and iOS versions of the app was important. StatCounter shows that Android held a 56.47% market share and iOS held a 42.76% market share in New Zealand as of March 2021. To reach all customers , we opted for both Android and iOS apps. 

The Columbus Coffee Rewards app helps customers earn points for every purchase at the chain and redeem them for free beverages. There's no need to carry a plastic loyalty card anymore, as there's an app for that! Also, customers can use the app to find the nearest Columbus Coffee, check out special offers and discounts, and view their order histories.
Designed the UI/UX
When designing the app, we followed the colors and design theme of the existing Columbus Coffee Rewards app. We chose yellow, brown, and white as the main colors. Also, we paid close attention to navigation consistency and user-friendliness as well as minimalism and simplicity so as not to overload the UX and overcrowd the UI.
Implemented features
Similar to other digital loyalty programs, Columbus Coffee Rewards offers users to sign up using an email address or a loyalty card number. To become a Columbus Coffee Rewards member, a customer should provide an email address, phone number, first and last name, and birth date. Additionally, customers can choose to share their favorite drink, and preferred type of milk.
Rewards are one of the best ways to gain repeat customers. With Columbus Coffee Rewards, users can earn, redeem, and track points for beverages, check out details of their last transaction and special offers, and get birthday rewards. Also, there's a unique in-app QR code that can be used instead of a standard plastic rewards card. 
Users can find the nearest Columbus Coffee on the map or in the list view and see how far away it is.
Social icons allow users to quickly navigate to Columbus Coffee social media pages and the Columbus Coffee website.
Settings are one of the most important features of any app, as it's where users look when they want help or want to configure app settings. Columbus Coffee Rewards allows users to adjust notifications within the app, access FAQs, and get support. They can also check out terms and conditions.
Technology stack
Swift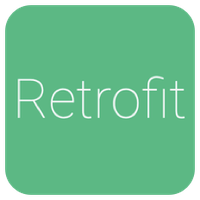 Retrofit
Google Maps
Kotlin